There are various video websites that users can watch videos and upload to share with others and so on. Would you like to download some favorite videos so as to save them offline?
You can use the video downloader add-on on the web browser to download videos, here I told you one way to use a free video downloader program to download videos and convert videos.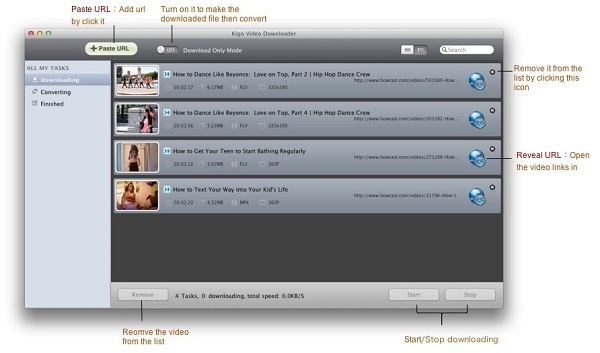 Step 1. Go to download Kigo Video Downloader for Mac, install and run it.
Step 2. Open http://www.hulu.com/, find the video you want to download, copy the video playing link url and paste to software.
Step 3. After URL parsed correctly, the videos will be displayed in Downloading list.
A lot of the videos are divided into multiple segments, including advertisements. After analyze the URL complete, all segments and ads will be listed as below. You can free download video clips, including ads. The fragment of less than 15 seconds is default unchecked.
Multiple segments is displayed with Name, Time, Format, Resolution, Size according to the resolve the situation. Click OK to start downloading.
When you download different resolution videos, you must play it first and set the right resolution in the video settings. Then paste the URL to download.
Step4. Select the file you want to download. Click Start to begin downloading.
You can choose one button to download and convert, or only download videos as you like. More details info you can view from